McGETTIGAN'S ANNOUNCES A NEW LOCATION IN DUBAI SCIENCE PARK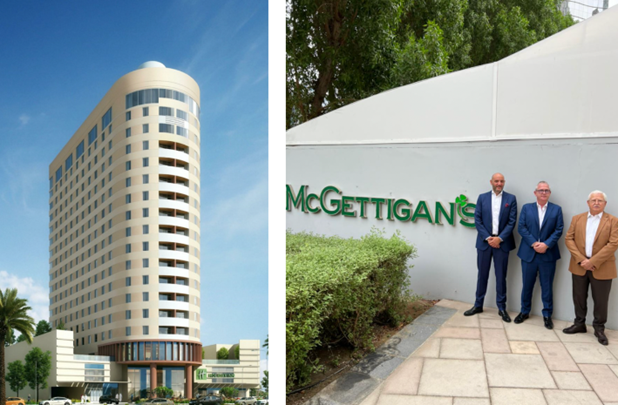 The upcoming Holiday Inn & Suites Dubai Science Park set to open in Q4 2022 will be the home to the 20th McGettigan's globally.
UAE, Dubai, 4th August 2022: Today marks the announcement of the franchise between McGettigan's and Vandis Investment Inc. Ltd. The new outpost will be lodged at the pre-opening Holiday Inn & Suites Dubai Science Park, an IHG hotel, expected to open its doors to the community in Q4 2022.
The Irish pub is set to be the new hotspot hub catering to the community and the residential areas around it, showcasing its unrivalled Irish hospitality whilst maximizing a massive indoor and outdoor space of 425sqm occupying the hotel's 3rd floor. Buckle up for traditional live music, entertainment, plentiful screens for live sports and authentic Irish food & beverage.
The opening of McGettigan's Dubai Science Park is a pivotal move in the hospitality group's booming expansion plans, creating over 50 jobs and marking their 20th global launch.
Dennis McGettigan, CEO of McGettigan Group says "We are delighted to partner with Vandis Investment Inc and Holiday Inn Hotel & Suites Dubai Science Park to create a McGettigan's in the heart of the Al Qudra corridor. This will mark our first franchise agreement with IHG, and we're thrilled to be joining forces in support of the new Holiday Inn located in Dubai Science
Park. We look forward to welcoming existing and new customers to our latest venue and bringing an unrivalled line-up of live music and entertainment, quality food and great drinks to the area."
"McGettigan's was a standout franchise for us to partner with given their stellar track record in delivering a high-quality hospitality experience bolstered by strong financial performance," comments Michel N. Jeanbart, General Manager, Vandis Investments Inc. Limited.
Sayed Tayoun, General Manager, Holiday Inn & Suites Dubai Science Park states that "The new Holiday Inn is an exciting addition to Dubai Science Park and will cater to the local community, including residents and visiting business executives in the area. We are confident that McGettigan's will provide a big part of the hotel's appeal when it opens later this year."