McGettigan's Dubai Science Park Launches "BOSS BABE" Ladies' Night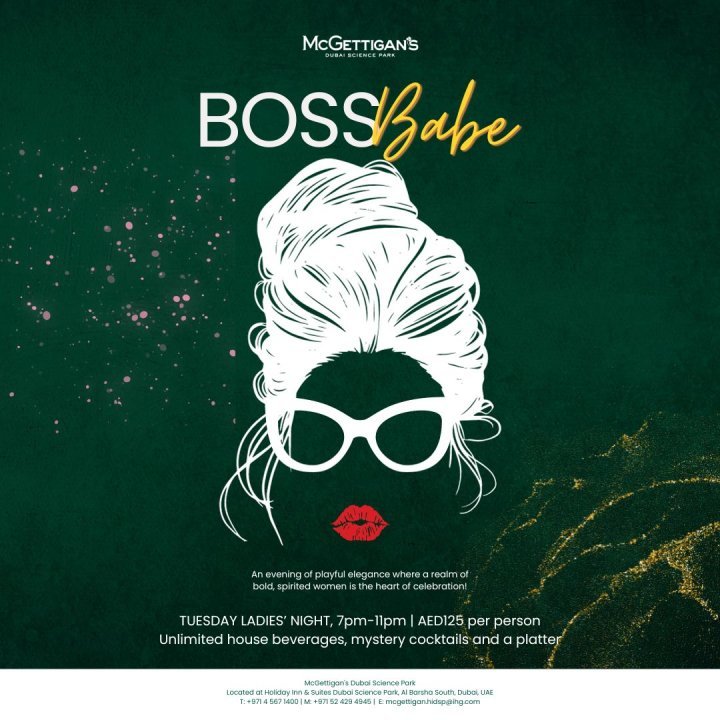 A Celebration of Empowerment, Friendship and Unforgettable Fun
Dubai, UAE - September 14, 2023 - McGettigan's Dubai Science Park proudly presents "BOSS BABE" Ladies' Night, a celebration of empowerment and camaraderie tailored for modern, strong, and independent women who epitomize success and determination.
"BOSS BABE" Ladies' Night - Where Empowerment Flourishes:
Every Tuesday, from 7:00 pm to 11:00 pm, McGettigan's Dubai Science Park undergoes an enchanting metamorphosis, blossoming into a haven of empowerment and camaraderie. For just AED125 per person, savor the delights of unlimited house beverages, mystery cocktails that are meticulously crafted with unconventional blends each with a delightful twist designed to ignite your curiosity, mouthwatering platters of McGettigan's ever-famed nachos, savory chicken wings and heavenly truffle arancini, all accompanied with live entertainment featuring Georgia Octavia.
"BOSS BABE" Ladies' Night transcends the boundaries of a mere event; it's a transformative experience that pays tribute to exceptional women who gracefully balance responsibilities while nurturing bonds with their cherished girlfriends. It offers a sanctuary where they can unwind, network, and revel in each other's company while in comfort and confidence.
Beyond a Promotion: Empowerment, Unity, and Celebration:
This concept goes beyond mere promotion; it embodies the essence of empowerment, unity, and celebration. It uplifts, inspires, and reaffirms the spirit of the modern, independent woman of all ages and professions. Join us in raising a glass to the indomitable "BOSS BABEs" who effortlessly conquer the world and dance through life!